I've been kind of curious about Autism for some time now, in that it seems I have a few of the issues they do (on a smaller scale) and I find the "disorder" fascinating. I've also been in love with the show "Big Bang Theory", and especially enjoy the character, Sheldon. He kind of reminds me of myself + Jon in some sort of Dragonball Z fusion, only mentally because he is a wimp physically. When I looked up info on him, I found most people believe he is a portrayal of the Asperger Syndrome (the director says he based him off an old friend, and not as a stereotype), which is a disorder in the Autism Spectrum. After reading up on that, I think there are a lot of similarities between my life and experiences compared to the symptoms, so I decided to take a few tests, and it seems I may be right to have some suspicions. If you guys would feel comfortable doing so, would you mind to take some of these tests and post your results? Here are mine:
I got these from Wrong Planet, an online Autism/Asperger community site.
AQ test:
http://www.wired.com/wired/archive/9.12/aqtest.html
I got: 31 (16 or so is normal, 32+ is likely asperger syndrome)
Broad Autism Spectrum Phenotype Test:
http://www.okcupid.com/tests/the-broad-autism-phenotype-test
I got: 78 aloof, 98 rigid, and 89 pragmatic
Empathy Quotient vs Systemizing Quotient:
http://eqsq.com/eq-sq-tests/
I got: 21 EQ and 92 SQ (Extreme Systemizing), I have a feeling Jon is the same here. Extreme Systemizers are usually Aspies or in the Autism Spectrum.
The Aspie Quiz:
http://www.rdos.net/eng/Aspie-quiz.php
I got: 138/200 Aspie, 79/200 Neurotypical, very likely an Aspie. Plus this cool chart (I think its a kidney):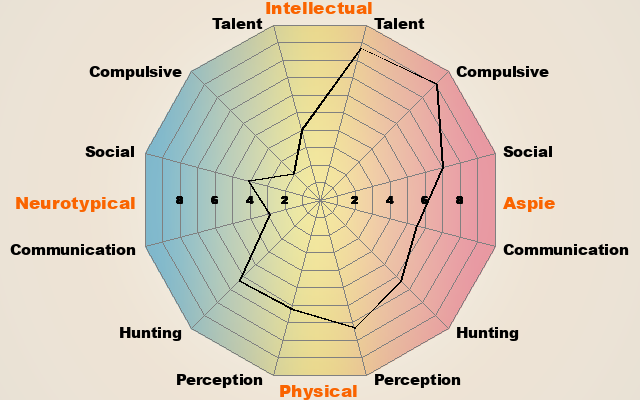 In the end these tests are really just for fun since they're not definative, but I'm considering getting an evaluation for it (generaly, Aspies are eligible for SSI and grants/scholarships).
I could only take the eq/sq test via my phone. My results are: eq(empathy)-51 sq(systemize)-49 which made my brain-Balanced. That is usually how the majority of my results are. I act on emotion only after I think out the details and determine if the emotion needs acted upon...



Posts

: 61


Join date

: 2011-12-23


Age

: 25


Location

: A forest that lies somewhere between Narnia and Middle Earth



AQ: 35
Broad Autism Spectrum Phenotype Test: scored 111 aloof, 107 rigid and 118 pragmatic
EQ: 12

That's all I could do before I got bored....



Posts

: 179


Join date

: 2010-06-27


Age

: 91


Location

: In a wet cardboard box suffering from a seizure while eating a stick of deoderant. Or was that a dream....?



Not sure about those tests, they say I am autistic and should be diagnosed, which I don't agree with.



Posts

: 179


Join date

: 2010-06-27


Age

: 91


Location

: In a wet cardboard box suffering from a seizure while eating a stick of deoderant. Or was that a dream....?



Looks like you're pretty normal Rachel

. Most of my coworkers scored similarly, except Curtis, he scored similarly to Nick.
Nick, I actually figured you might score pretty close to mine as well, along with Jon. We have a lot of similar mannerisms and Aspergers is generally genetic. It might also be from influence since we have hung out a lot since you were little, but I wouldn't worry too much. I would read up on it though, in case it helps strengthen your weaknesses from the tests (national library of medicine:
http://www.ncbi.nlm.nih.gov/pubmedhealth/PMH0002516/
). If I wouldn't have had the "help" of my coworkers (I use quotes because it was due to bad evaluations, but with good intentions for me to improve) I would have scored quite a bit higher into AS. Personally, I see it as an asset instead of a "disability", especially the alternative thinking that it usually provides (and details that others don't see).
Only did the first one so far (AQ), but I scored a 37 on it. So... Yeah. I mean, I can't say I'm really too surprised, as it would explain some of my peculiar behaviors. I use to be really bad with the whole social anxiety deal, but I believe God has helped me through a lot of that. When I was younger I would just prefer to stay home all the time, and even now I find myself wishing I could find something where I could work from home.
Admin




Posts

: 266


Join date

: 2010-06-23


Age

: 33



Yeah, I know what you mean. The library is both the best place (in that is fits with my strengths) and worst place (in that is also annoys all of my weaknesses) at the same time. I'd almost rather be fixing computers for a living. I thought you might find the "Wrong Planet" site name pretty funny, when you were a kid you used to say you were an alien, so a lot of people identify with that XD.
Joe wrote:Looks like you're pretty normal Rachel

.
That may be the first time someone has said I'm normal lol... Now when I take the ADD or ADHD assessments I fail miserably. I have the attention span of something with no attention span. (I couldn't think of anything)



Posts

: 61


Join date

: 2011-12-23


Age

: 25


Location

: A forest that lies somewhere between Narnia and Middle Earth



People with AS often have another disorder, such as ADD/ADHD, OCD, etc. But just in that your empathy is so high vs systemizing, its unusual for AS since one of their biggest difficulties is language and socializing (unless they turn it into a system). OCD itself is very close in symptoms to Asperger's, but it usually deals with high anxiety and they're often ashamed of their obsessions and attempt to keep them hidden socially (in addition they have better social skills, and generally think more normally). They're also annoyed by their own compulsions and thoughts, whereas AS tend to embrace them vs becoming frustrated. Another thing is that people with AS often tend to insult people without meaning to, ie when I told my coworker Lisa that her picture in the paper was unflatering she became angry instead of taking it as a compliment that it didn't do her justice (I usually have to double think on such comments now).

Really though, almost everyone has some sort of disorder, if you didn't you'd probably be unusual lol.
I have certain compulsions with sounds, object placement, and other things. Some of which I control, others drive me crazy. So I guess I have slight OCD and attention problems, but you sir are correct everyone has their own quirks!



Posts

: 61


Join date

: 2011-12-23


Age

: 25


Location

: A forest that lies somewhere between Narnia and Middle Earth




---
Permissions in this forum:
You
cannot
reply to topics in this forum